Claudia Robin Gunn
Regular price
Sale price
$13.00 USD
Unit price
per
Sale
Sold out
Tune in to the beautiful chorus that our world makes - and add your voice to the choir. This album is an invitation for children and adults to sing and learn about some of the wonders of life on this planet. Includes a digital download of the Sing for the Earth Songbook.
Credits

Songwriter/Performer: Claudia Robin Gunn
Featuring Guest Vocalists: Deni Gunn, Itty Bitty Beats (Jenny and Lucy), Angie Who and Loopy Tunes Preschool Music (Siu and Leah)
Producer: Tom Fox at The Sound Room
All Instrumentation: Tom Fox
Mastering: Mike Bloemendal
Illustrator: Elise De Silva
Graphic Design: Claudia Robin Gunn
Science Communicator: Melissa R Gunn


Funded by Creative New Zealand
Share
View full details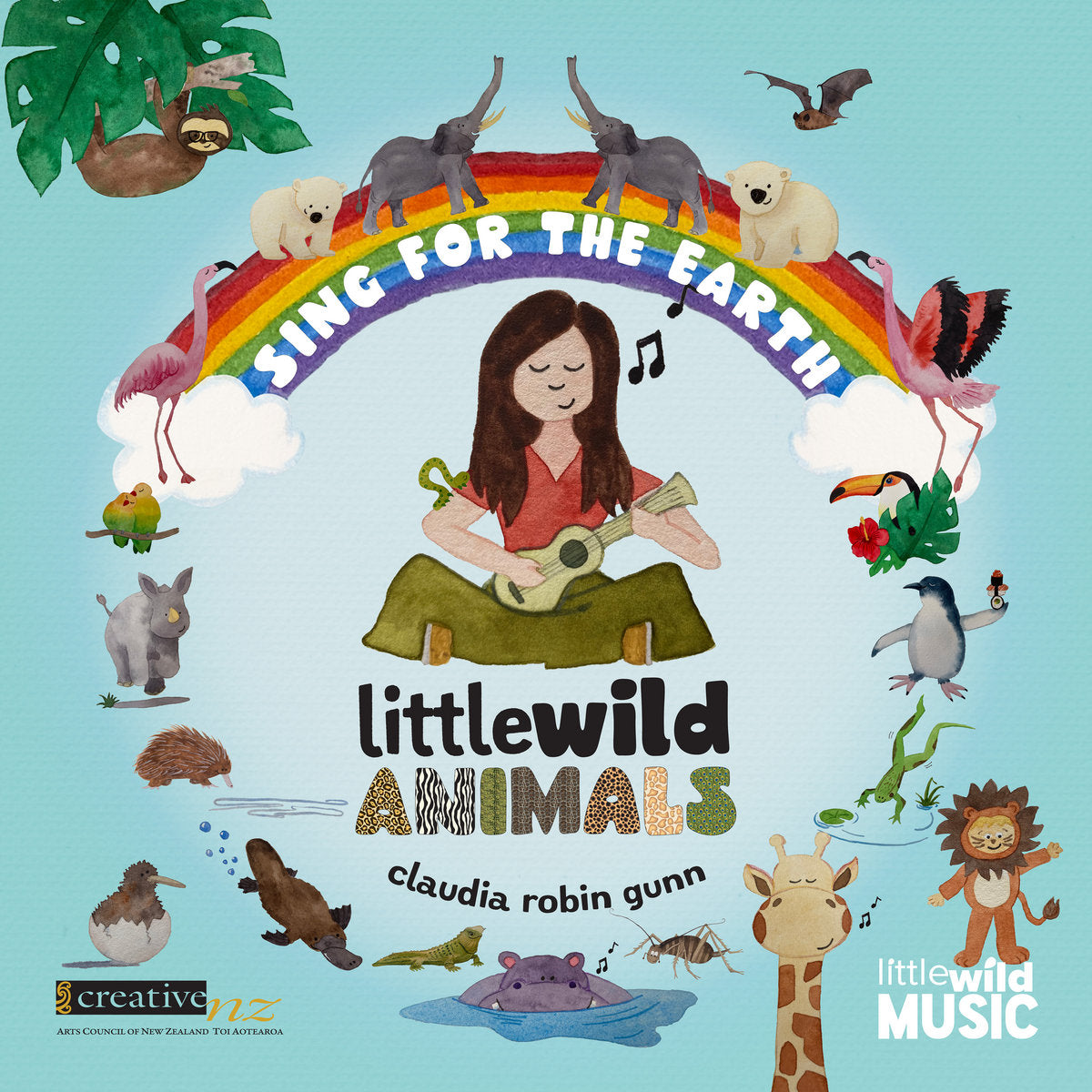 Tracklist

1. Animal Families
2. Brave Like A Lion
3. Cloud Forest Chorus
4. Don't Be Scared of Bugs
5. Earth Kind
6. Achidna Lullaby
7. Feathers and Bones (Extinction Elegy)
8. Giraffe Song
9. Go Baby Rhino Go
10. Happy Little Honeybee
11. Hippo Harmony
12. Loopy the Inchworm
13. Lovebirds Love
14. Muddy Puddles (Frog Song)
15. Panda On A Plane
16. Pekapeka Pukapuka (NZ Bat)
17. Pink Flamingo Fling
18. Rainbow World (Biodiversity)
19. Roll Poly Polar Bear
20. Tara Tuatara
21. The Little Blue Sushi Shop Penguins
22. The Very Busy Sloth
23. This Book Belongs to Everyone
24. We Are the Platypus
25. Zoo Hullabaloo

About the Album

Shining a spotlight on wildlife conservation and climate awareness, this album contains 25 original tunes. It celebrates our planet and a diverse range of the fascinating animals that inhabit the trees, the plains, the mountains and the rivers, the coastlines and even the ice floes alongside us humans.

The biodiversity crisis is referenced in the heartfelt song Rainbow World, and the tragedy of extinctions is catalogued in the song Feathers and Bones (Extinction Elegy). This tune offers an emotive call to remember creatures long disappeared from her homeland of Aotearoa New Zealand - huia, moa, Haast's eagle and the greyling.

Fellow land of the long white cloud inhabitants that feature in other songs include the myriad critters of 'Don't be Scared of Bugs', little blue penguins (kororā) in The Little Blue Sushi Shop Penguins (another true story), disco number Tara Tuatara and the delights of kiwi hatchlings in Animal Families.

Guest vocalists include Claudia's mother Deni Gunn who lends her harmonies to the fun and quirky songs Loopy the Inchworm and Roly Poly Polar Bear.

The incredible monotremes of Australia get a shout out in the sweet lullaby with Angie Who 'Echidna Lullaby', and in 'We Are The Platypus'.

Have a boogie with zoo animals, including actions in Te Reo Māori, in the Zoo Hullabaloo featuring Loopy Tunes Preschool Music and send a love letter to your best friend in Lovebirds Love featuring Itty Bitty Beats.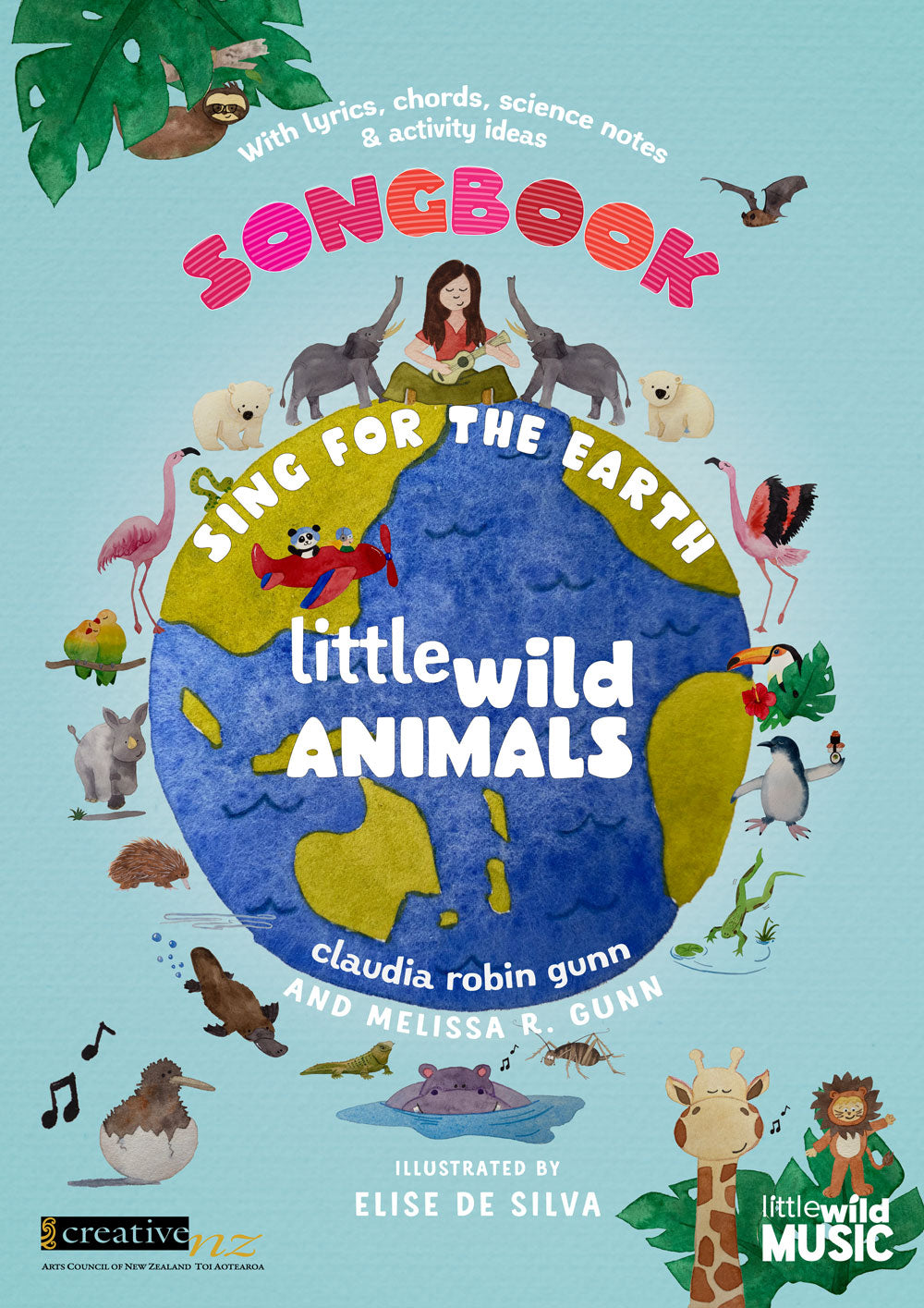 Songbook - Sing for the Earth - Little Wild Animals
Chords and Lyrics for all the songs, plus science notes and activity ideas for families to explore, written by Melissa R. Gunn (PhD) and illustrated by Elise De Silva.
PDF format bundled with download of the album and ebooks also available separately at the link below.

Buy ebook
Choosing a selection results in a full page refresh.
Opens in a new window.